The Teton River is named one of America's Most Endangered by American Rivers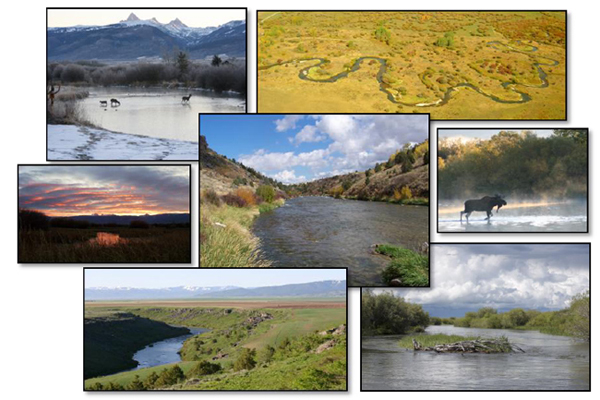 Last week the Teton River was named one of America's Most Endangered Rivers™ by American Rivers. For the past 25 years, American Rivers has released its "Most Endangered Rivers" report to spotlight the nation's ten most imperiled rivers. The Teton River has been selected due to the Bureau of Reclamation's "Henry's Fork Basin Special Water Study"
to explore the rebuilding of the Teton Dam and other water supply and optimization options, and because there is a "major decision that the public can help influence in the coming year."
The American Rivers designation is a call-to-action and emphasizes solutions for the rivers and their communities. A large part of the reason FTR has been so successful in its work in the upper Teton watershed is because of its dedication to working with diverse stakeholders to develop with creative, collaborative solutions to habitat restoration, fish passage and water management. Using a blend of federal, state and private funding FTR has replaced failing diversion structures and installed fish screens, providing win-win solutions for irrigators and fish; has worked with farmers to establish cattle crossings, reduce sediment inputs and restore streambanks; and has established subwatershed stakeholder groups to address specific problems on tributary streams. FTR hopes that some of the lessons and collaborative relationships FTR has developed in the upper Teton watershed can be applied in the Henry's Fork Basin Special Water Study.
FTR recognizes that a dam on the lower Teton River could have significant impacts on restoration of Yellowstone cutthroat trout in the entire watershed. FTR is encouraged by the Bureau of Reclamation's recent decision to involve the public in the scoping process, to expand the study area to the entire Henry's Fork Watershed, and to include not only a consideration of rebuilding a new dam on the Teton River, but alternative options such as water conservation and optimization, and a variety of off-stream storage options. FTR would like to strongly encourage the public to participate in the upcoming Henry's Fork Basin Special Water Study to make sure all stakeholder interests are met. See how you can get involved in this process below.
For more information on America's Most Endangered Rivers™ please visit the link below: